Item number: MB40V-D

DISCONTINUED IN 2020: STOCK NO LONGER AVAILABLE:

This new Engel built in model was designed for mounting concealed under a bench of a motor home or possibly in the galley of a boat.

Features Simply dial control, and LED interior light. Comes Standard with a small hanging basket.

The MB40V-D can be remotely mounted up to a metre away from the cabinet.

The MB40V-DH can be mounted hanging from the bottom of the cabinet but cannot be mounted remotely.


Warranty 3 Years

Please note: The External Dimensions do not include the compressor unit, as one unit can be mounted up to 1 metre away from the cabinet.

The compressor unit dimensions H 181 W 321 D 220 mm this is in addition to the cabinet dimensions if mounted with the compressor unit hanging from the bottom of the cabinet. the external height would be H 639 mm.



Part # MB40V-D Compressor mounting brackets can be fixed from the top or the bottom of the compressor unit. (bottom fix compressor mount brackets and hanging compressor mount brackets included)

Part # MB40V-DH Compressor mounting brackets from the top of the compressor unit only, (hanging compressor mount brackets only).

Product Specifications
Name: 40 Litre Built In Chest Fridge / Freezer
Model No: MB40V-D
Category: Specialised Equipment
Capacity: 40 Litre
External dimensions:: H 458 W 500 D 340 mm + comp.
Internal dimensions:: H 380 W 420 D 263 mm
Net Weight: 20 Kg
DC Power Consumption: Variable from 0.5 to 3 AMPS Maximum
Power: 12 / 24 Volt DC

Price: $850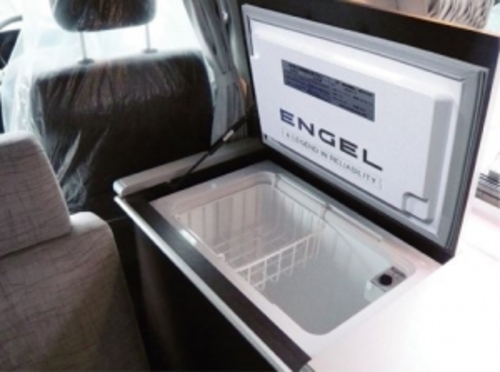 to XTINCT - PRODUCTS ...NO LONGER AVAILABLE.


All prices include GST