Engel 39 Litre Digital Combi Fridge & Freezer. Gun Metal Grey.

add to cart

view cart
Item number: MT-V45FC Stock in store.

this wonderfully versatile digital model gives you so many options ....

The Engel 39 Litre combi fridge & freezer features a thermostatically controlled fan & ducting system to ensure the fridge compartment maintains a temperature range of +2 to +5 degrees.

The removable divider can be positioned to provide you with the following options :

1. 23 litre fridge & 16 litre freezer (39 litres)
2. 17 litre fridge & 22 litre freezer (39 litres)
3. Remove the divider and have 40 litres as a fridge.

NB: There is NO option for this model to be all freezer.

This unit also features the integrated control function and also has a built-in battery monitor with low voltage cut out at either 10.5 volts or 11.5 volts.

Cabinet sizing remains the same as the original MT45F models to enable you to use existing accessories.

New Colour is Gun Metal Grey & includes ON/OFF interior light, large LOCKABLE door latch and now has 5 YEAR COOLING UNIT WARRANTY.

Price: $1479 RRP ... FRIDGE ONLY RRP $ Phone or email for your Special Price including the transit bag.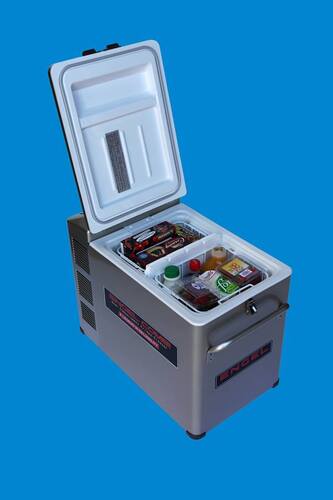 to fridge - Engel Chest type


All prices include GST