Engel 57 Litre 32/25 DIGITAL V Series Combi fridge & freezer

add to cart

view cart
Item number: MT-V60FC 57 litre Combi. Stock in store.

Engel 57 litre fridge & freezer combi model ... Digital Gun Metal Grey V Series ... 5 Year Warranty.

The Engel combi gives you the best of both worlds - fridge & freezer in one - no need to choose.

The first real portable fridge-freezer with the convenience of separate fridge and freezer compartments - ideal if you have lots of children or planning a long term trip around Australia.

The thermostatically controlled fan provides cool air from the freezer section to maintain accurate refrigerator temperature.

The freezer compartment has a digital temperature read-out for added convenience and features user friendly digital controls with built in battery monitor.
Powered by the renowned 'Swing Motor', this Engel Combi has all the efficiency and reliability ENGEL portable fridge-freezers are famous for and now comes with
a 5 YEAR WARRANTY ON THE COOLING UNIT.

NOTE: This unit must be used as a fridge & freezer at all times it will not work effectively in any other way so be sure this is what you want before you purchase.

Solid steel hinges & steel latches.
Simple dial control & read out.
Auto switching between AC/DC.
ON/OFF interior light.
Large LOCKABLE door latch.
Improved handles & corner protectors.

Net Weight: 33kg
External Measurements (mm): 441H x 790W x 490D
Internal Sizes (mm): 310H x 250W x 390D (fridge)
Internal Sizes (mm): 310H x 200W x 390D (freezer)

Note: Add extra 45-50mm each end of external width for handles.

Voltage: 12 & 24 Volt DC, 240 Volt AC
Current draw DC 0.5 - 4.2 Amps

First price shown is recommended retail for fridge only.

Price: $1939 RRP ... FRIDGE ONLY RRP $Phone or email for your Special Price including the transit bag.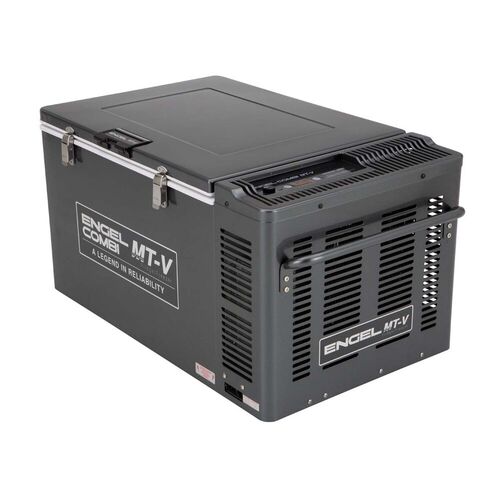 to fridge - Engel Chest type


All prices include GST