Engel 75 Litre 42/33 Digital V Series Combi Fridge & Freezer

add to cart

view cart
Item number: MT-V80FC 75 litre Combi. Stock in store.

Engel 75 litre Digital Gun Metal Grey V Series fridge & freezer at the same time. 5 Year Warranty.

80 litre combi model - fridge & freezer at the same time.

The MT-V80FC is the largest addition to the legendary ENGEL Combi Fridge/Freezer range. This Model has a huge 75 litre capacity (42 litre fridge & 33 litre freezer) with all the efficency and reliability you have come to expect from Australia's best portable fridge/freezers.

The many quality features include user friendly digital controls, a digital temperature readout for constant monitoring of the freezer temperature, steel cabinet, stainless steel hinges, steel handles & steel lid for durability, built-in Low Voltage cut-out, ON/OFF interior light, large LOCKABLE door latch and auto switching between AC and DC power.
Now comes with Five Year Warranty on the Cooling Unit.


NOTE: This unit must be used as a fridge & freezer at all times it will not work effectively in any other way so be sure this is what you want before you purchase.

(In some instances, although it will cost more initially, it can be a better option to purchase two 40 litre units and use one as a fridge and one as a freezer .... this combination will use less power than the one 80 litre combi unit and give you the flexibility of only using the one smaller unit when going on a short or weekend trip).

Fridge Capacity : 42 litres
Freezer Capacity : 33 Litres

External dimensions: H 561 W 790 D 490 (mm)

NB: Add additional 45-50mm each end to width for handles.

Net Weight: 40 Kg

DC Power Consumption: Variable from 0.5 to 4.2 AMPS Maximum

Power: Built In 240Volt AC / 12Volt DC / 24Volt DC

Price: $2079 RRP .... fridge only. RRP $Phone or email for your Special Price including the transit bag.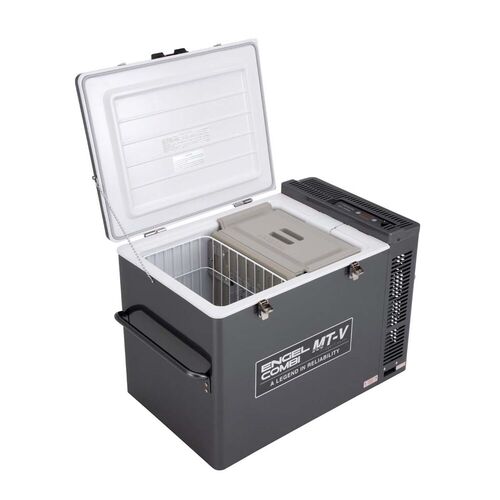 to fridge - Engel Chest type


All prices include GST