Engel 40 Litre Fridge or Freezer - Digital V Series

add to cart

view cart
Item number: MT-V45F Stock in Store.

Engel 40 litre fridge or freezer ... Digital Gun Metal Grey V Series. 5 Year Warranty.

The Engel 40 litre is the perfect size for fishing trips, family holidays & 4 WD enthusiasts. Only takes up as much space as an esky and has a really low power draw for peace of mind.

Holds 60 x 375mL cans. Has a distinct Gunmetal Metallic finish and comes with stainless steel latches, a built in digital temperature read out, interior LCD light, simple dial control and auto switching between 12/24v DC and 240V AC.

***All the attributes of the previous Platinum Series - Built-in Battery Monitor and the ability to run constantly at a preset temperature of your choice are standard inclusions in this model.***

New Features are :

ON/OFF interior light
large LOCKABLE door latch
IMPROVED handles & corner protectors

and "Most Importantly" now comes with
a 5 YEAR WARRANTY ON THE COOLING UNIT.

Net Weight: 24kg
Internal Sizes (mm): 370H x 27W x 260D
External Measurements (mm): 508H x 380W x 648L (includes 17ml protrusion for lid handle & lid catch).


Note: Add an extra 83mm to external width to include handles and 2mm in height for feet if exact height is an issue.


Voltage: 12 & 24 Volt DC, 240 Volt AC
Current draw DC 0.5 - 2.5 Amps

First price shown is recommended retail for fridge only.

Price: $1439 RRP ... FRIDGE ONLY RRP $Phone or email for your Special Price including the transit bag.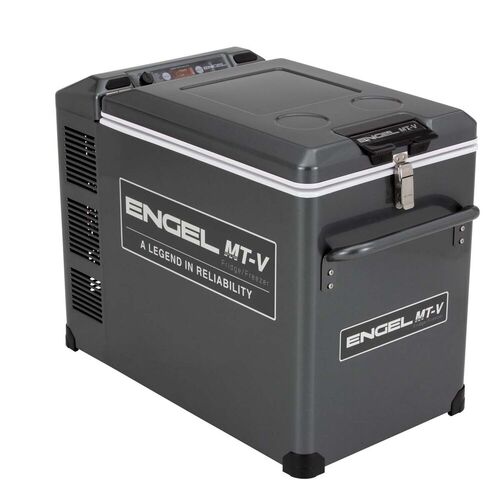 to fridge - Engel Chest type


All prices include GST