Item number: LBC30-N

28 litre 3 in 1 Live Bait Box

Engel 30 Quart (28 litre) 3 in 1 Live Bait Box.


Description

The "hang tray" now has an all-new pull net which makes fetching your bait and changing water a breeze…and it's designed to withstand wear and corrosion. The air tube port is in the lid which allows you to fill/use more of the box capacity while also cutting down on the small overflow splashes that result from allowing the cooler to vent around the air tube. The powerful 2-speed 2X2 Air Pump keeps the water fully aerated, while the insulated cooler shields expensive bait from the elements. Plug into your car or boat's cigarette lighter using 12V adapter to run the pump overnight and keep bait fresh for the next morning.

Quality Injection Molded (PP Copolymer), Insulated with High-Grade molded Polystyrene Foam, Airtight EVA Gasket Seal Recessed Ergonomic, Carry Handles (ABS) & Integrated Shoulder Strap (PP), Self-Stoppin, g Hinge (ABS), All Fittings Secured with Stainless Steel Screws, Stain and Odor Resistant. Non-Absorbent Surface Easy to Clean, 2-Speed Pump Maximizes Aeration and Battery Life, Water-Resistant Housing Protects Motor and Suppresses Noise, Flexible Silicone Hose and Weighted Air Stone For Lively Bubbling Action, Remove the Pump and Hose and Easily Convert to Cooler,


Price: $199 RRP $125.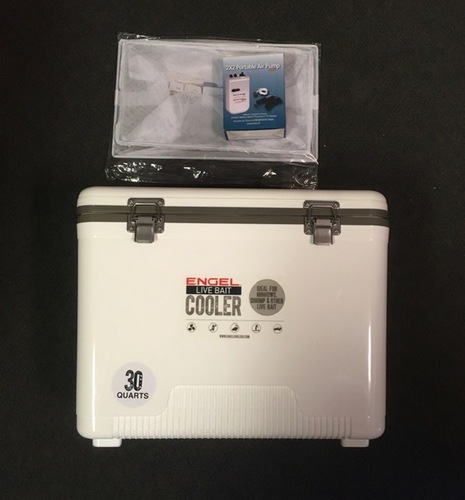 to Cooler Boxes & Eskies


All prices include GST