Item number: EG-SHX1000 NO LONGER AVAILABLE.

OUT OF STOCK :.. No Longer Available.

Engel SHX1000 Inverter generator.

* Super quiet operation. 58 dB (1/2 load). 5.5 Hours/Full Load or 8.6 Hours/1/2 Load Continuous Operation. (3.8 litre Fuel Tank Capacity). Air Cooled 4 Stroke 49cc OHC GXH50 engine @ 5800 RPM on Full Load or 4100 RPM on "Eco throttle". Runs on Unleaded Fuel.

* Light weight and compact. 14kg Dry Weight. 465mm x 265mm x 380mm.

* Sawafuji digi wave technology. Single 240v 50 Hz Socket @ 3.8 Amps. Rated Output Continuous 900 watts on Full Load & 680 watts on"Eco throttle" Maximum Output 1000 watts. DC Output for charging 12v automotive batteries 8.3 Amps on Full Load or 4.2 Amps on "Eco throttle".

* Stylish looks. LED Pilot Lamp. LED Power Indicator. LED Oil Alert System with Thermal Type Circuit Breaker.

Engel Inverter Generators are powered by the most reliable engine used in the portable power industry, Honda.



Price: $949 RRP $**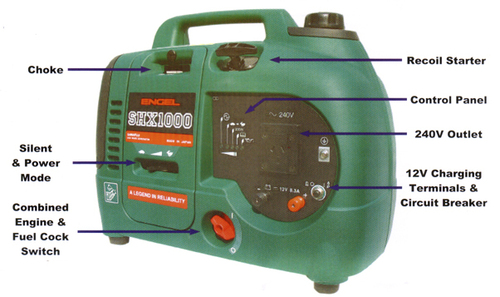 to XTINCT - PRODUCTS ...NO LONGER AVAILABLE.


All prices include GST