Item number: SPOTLIGHT. No Longer Available.

Engel Rechargeable LED Spotlight with Camping Lantern

Super bright multi-purpose LED Spotlight and Camping Lantern is a great light for all sports of outdoor activites like camping, working on cars, household projects, etc.

The light switches seamlessly from a powerful LED Spotlight to a functional stand alone LED camping lantern for hands free use.

Energy saving LED, unlike a bulb, no replacement needed.

> 120 lumens - medium intensity
> 3W LED provides a bright concentrated beam
> Run time: 4 hours for Spotlight. 20 hours for Lantern.
> Dual recharge option - AC/DC charger & 12v DC car plug
adaptor included.
> Charging time: 10 - 12 hours.
> Green LED indicates battery is fully charged
> Spotlight has 1 piece LED.
> Camping lantern has long lasting 5 piece LED with no
bulb to burn or change.
> Lithium battery: 3.7V, 2200mA
> Two positions of handle to ensure comfortable &
ergonomic access.
> Carry Handle has built in hook so lantern can be easily
transported or suspended.
> Weatherproof but not Waterproof construction.





Price: $49.95 RRP $40.00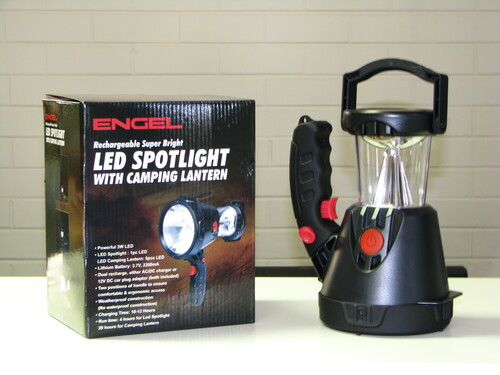 to XTINCT - PRODUCTS ...NO LONGER AVAILABLE.


All prices include GST