Engel 60 Litre DIGITAL V Series fridge or freezer model

add to cart

view cart
Item number: MT-V60F Stock in store.

Engel 60 litre fridge or freezer .... DIGITAL Gun Metal Grey V Series ... 5 Year Warranty.

The large capacity of this one makes it great for group trips and gives you heaps of extra space for bringing home the fish.

This model features the user friendly digital controls with built in battery monitor. This battery monitor has 3 settings, High, Low and Off. The 'HIGH' setting is a cut off for a voltage of 11.5 volts DC. The 'LOW' setting cuts of at 10.5 volts DC. And the 'OFF' setting turns the battery monitor off so that the fridge can run straight from your Power Film Solar panels or when the output voltage from your vehicle is low.

Solid steel hinges, steel latches.
Simple Dial Control & Read Out.
ON/OFF interior light.
Large LOCKABLE door latch.
IMPROVED handles & corner protectors.
5 YEAR WARRANTY ON THE COOLING UNIT.

Holds 80 x 375mL cans

Net Weight: 33kg
External Measurements (mm): 441H x 790W x 490D
Internal Sizes (mm): 310H x 510W x 390D

Note: Add additional 45-50mm each end of external width for handles.


Voltage: 12 & 24 Volt DC, 240 Volt AC
Current draw DC 0.5 - 4.2 Amps

First price shown is recommended retail for fridge only.

Price: $1899 RRP ... FRIDGE ONLY RRP $Phone or email for your Special Price including the transit bag.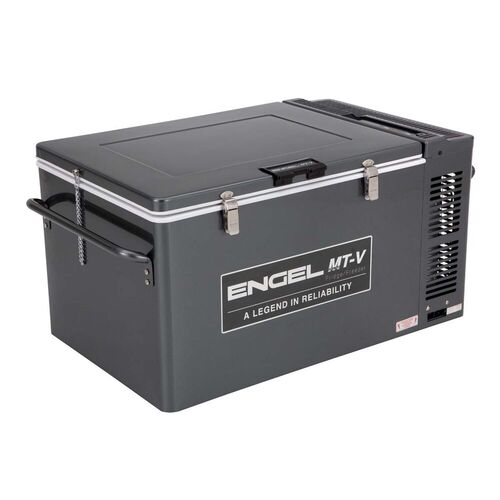 to fridge - Engel Chest type


All prices include GST